Archive for June, 2009
… it reminded me a good place for recruiting people for the research. Liter shots! Americans do it bigger!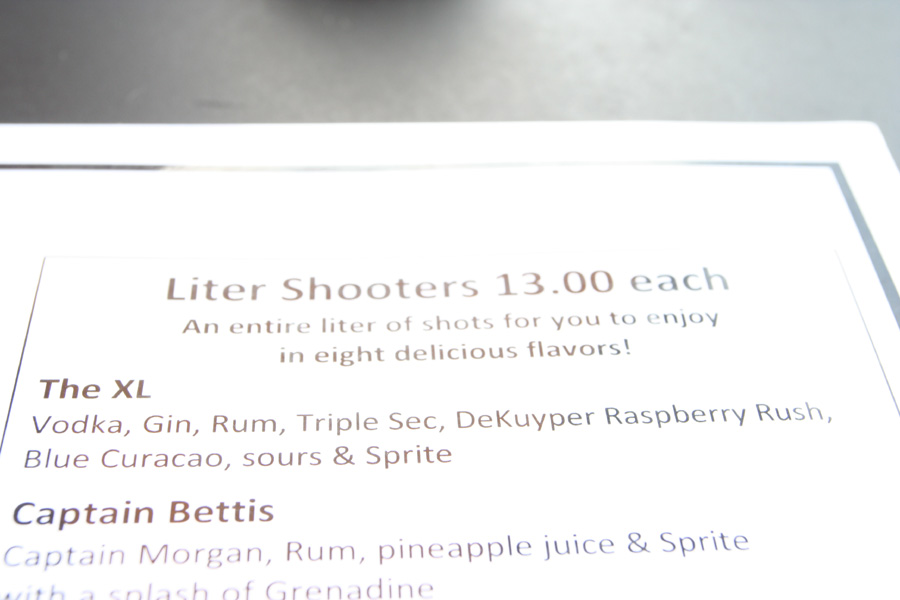 It's not the first or second time that I see an ad while riding the bus asking for people to participate in a medical research. I guess you can say that there is research here…
Dear Portuguese Restaurant owners:
Often times, I see in your restaurant menu Robalo or Dourada being translated as Sea Bass. Please take a close look at the photos and see if this fish looks anything like Robalo or Dourada! We don't have Sea Bass in our coast and it doesn't taste like Robalo or Dourada.
Today I had pizza with french fries. Not as side dish but on the pizza itself! It tasted good!
The temperature at night is quite warm, so we decided to buy some chairs and a table so we can eat outside. Nothing like BBQ and a beer for dinner, sitting outside… 🙂
I guess we were sick of waiting for the bus, so we decided to buy bikes. Besides the workout we take less than 5 minutes to get to the University.
As I previously said, the weather here is crazy and June is a special month for thunderstorms. It was pouring for a few hours, along with thunders and even the beginning of tornado formations.
There were floods everywhere, and part of the campus was closed the following day due the floods. You can read more about this storm here.
Today, we went to a beer distributor to buy beer. After ordering a pack of beer, they asked for an ID. I showed my european driver's license, which is fine for renting a car but I guess is not to buy beer.
I didn't have my passport with me, so Luis showed his passport. It was Tiago's turn to pay, so when he was about to pay, they promptly said that Luis had to pay, since he was the one that showed the ID. As portuguese, we solved the problem immediately, Tiago gave the money to Luis so he could pay! Well, not really, they said that Luis had to pay with his own money!
I can understand if they ask the person that shows the ID to pay, but demanding his own money, oh god! We were about to tell them that Luis had Tiago's money in his wallet and the other way around, but we would rather have the beer than playing games so we didn't.
Interesting how cautious these Americans are. They warn riders when they know that someone with a contagious disease rode the bus. They even give riders information about the desease and instructions on what to do.
Interesting type of Coffee…
If they knew what this means in Portuguese…