Posts Tagged 'fans'
It's supposed to get really hot in the Summer here, but so far, I haven't see anything. It's true that at night it's usually more chilly in Lisbon than here. The weather here is very humid which makes it feel warmer. Last week we went to Five Guys, a Burger-King-type-of-thing, but better. I guess it was a hot day, so they decided to rent an air conditioning unit (if you look closer at the bottom of the picture you can read that the A/C was rented). What is funny about this is the way it was installed. The central unit is in the  middle of the room, and they have some fans to spread the cool air around. I guess it was not effective since it was still hot in there, but it's not surprising if you you take a look at the master piece.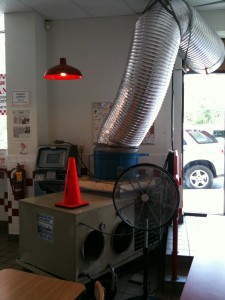 Then some other day, we went to a fancy restaurant for dinner. It was funny to see a fan in the middle of the bathroom.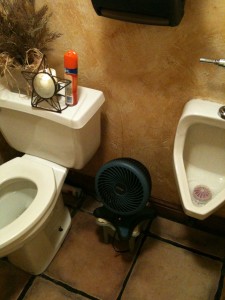 On the other hand, when you ride the bus you need a jacket. It's usually freezing in there! If the ride is long, even if you are wearing a jacket you might freeze to death, so beware!